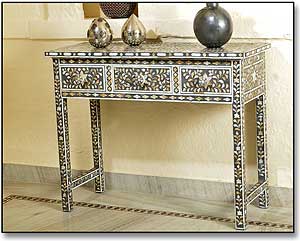 S Antiques Indian is key suppliers of all type of Indian style furniture. We have also enjoyed continuous business with our customers for decades. Our reputation being a reliable supplier has been built over years of ensuring that your individual Indian furniture requirements have been understood and delivered perfectly. Our extensive product knowledge has resulted in to receiving high quality products at cost effective prices. Our clients can be assured that they will get only the best quality furniture from S Antiques Indian as we are reliable suppliers for many companies in the interiors designer, retailers, wholesaler furniture, online furniture stores and hotel sector.

From the gracefully elegant to the modern style of Indian furniture. Our new collections are set to inspire. Whether you are looking for a art of antique or a hint of rustic charm. Our specially developed, stunning range of exclusively designed furniture and accessories will provide you with all you need all new trends of interiors and state-of-art home decoration.

We S Antiques Indian, being Indian furniture manufacturers are committed to providing the highest level of quality and best bottom prices, to our customers. As per our clients we are the perfect destination for furniture in India. We are committed to provide best Wholesale furniture from Jodhpur.
Our furniture is for any age, style, budget or taste. Our furniture for the traditional, contemporary, classical or modern home. It is desired and admired the world over. In Our 17th year and with a growing reputation for manufacturing and supplying high quality Indian furniture at competitive prices.
At S Antiques Indian, we provide ourselves in developing innovative, high quality furniture designs to suit client needs both large and small furniture at amazingly affordable prices. With an ever expanding client base we are focused on customer taste and brand quality, while we are proud to offer on-time order fulfilment.
Since production at S Antiques Indian began in 2000, the company has progressed from being a small producer of Indian Furniture and manufacturers of several high quality Indian furniture collection and now offers wide variety of comprehensive collections of dining room furniture, bedroom furniture, occasional furniture, living room furniture, antique furniture, reclaimed wood furniture, and one-of-kind furniture and articles, all made at our Jodhpur factory. A selection of Bone Inlay Furniture and Industrial Furniture complements these collections.

From S Antiques Indian your purchase is direct from the manufacturer, ensuring fine quality products and highly competitive prices. You can even buy furniture online, at our website.
CUSTOM INDIAN FURNITURE
S Antiques Indian is able to offer different type of Indian Antique Furniture and Indian Furniture to suit individual demands as we have specialisation in hotel furniture, restaurant furniture. We can supply different types of wooden furniture, industrial furniture, bone inlay furniture, handicraft items, carrying a wide range of accessories & made-ups as per customer requirements. Of course, your own designs, labels, trademarks and other specifications are cordially welcome.
All our furniture have been made using different type of hard woods like Sheesham wood, Mango Wood, Acacia Wood, Teak Wood (Indian Hardwood) to give them an authentic, traditional look. Our collection gives a traditional Indian Look, Indian Hardwood in different available finish and wrought iron fittings, makes these collection's style totally different from all other furniture. Each piece of furniture is hand finished, stained, lacquered then finally polished with a natural fine protective wax.
Product Range : Our product range includes Indian wooden furniture for the house namely beds, chairs, coffee tables, dining tables, side tables, cabinet, racks, cupboards, kitchen table, bathroom shelves, boxes, screens, consoles and a lot more made out on a exquisite fusion of wood and wrought iron. The utility art items: To compliment the above are in a plenty, namely lanterns, garden accessories, wine houses, wall sconces, wooden trays and a lot more. We also specialize in developing products and designs on the guidelines provided to us by our buyers. A complete range of bedroom furniture, dining room furniture , living room furniture, veranda, kitchen and bathroom can be sought from us at highly competitive pricing.
S Antiques Indian provides industrial style furniture and lightings to wholesalers and retailers. Our range is being constantly changed to ensure to match the trends. With a range of thousands of products and delivery throughout the World, we look forward to partnering your business.



fill in our online enquiry form and we will get in touch.
SMS, WHATSAPP or CALL : +91-98283-25024
A Unique Indian Furniture collection of statement and functional furniture to suit every place and style.
BONE INLAY FURNITURE
INDUSTRIAL FURNITURE
RECLAIMED WOOD FURNITURE
CARVING & DISTRESSED FURNITURE
ANTIQUE INDIAN BOX

ANTIQUE

INDIAN

ALMIRAH

AVIATOR FURNITURE
RECLAIMED WOOD INDUSTRIAL FURNITURE
INDIAN ALMIRAH & CABINETS

For More Indian Furniture Collection Click Here....


Turning Bespoke items in Reality

S Antiques Indian, design and produce contemporary, traditional and all other type of furniture, accessories, interiors for Interior Designers, Architects and the hospitality industry.


ECO-FRIENDLY INDIAN FURNITURE
We care about the environment and this has an impact on how we go about our work. We work with natural and recyclable material (reclaimed wood furniture) through sustainable methods of production and sourcing of wood (We use plantation wood for our Sheesham Furniture and Mango Wood Furniture) , that shapes our Indian furniture collections.

HANDMADE INDIAN FURNITURE
We want to make sure that age old traditions are handed onto future generations. This is one of the reasons why handmade wooden furniture create the core of our business. The relationship between artisan and a beautiful handmade piece creates a story and makes each product not a mass market item, but an individually one-of-kind crafted piece. Our products are either completely handmade or partially handmade. We offer you a unique handmade collection, including hand crafted wooden furniture, arts and crafts furniture, hand carved furniture, unique handmade gifts, cottage furniture, hand carved wooden animals - all available here through our online furniture store.

FACTORY / WAREHOUSE
S Antiques Indian
G-587, 9th Street, Basni IInd Phase,
Jodhpur (Rajasthan) - INDIA
Phone : +91-98283-25024 (Call, SMS , Whatsapp for more info)
E-mail : sales@antiquesindian.com